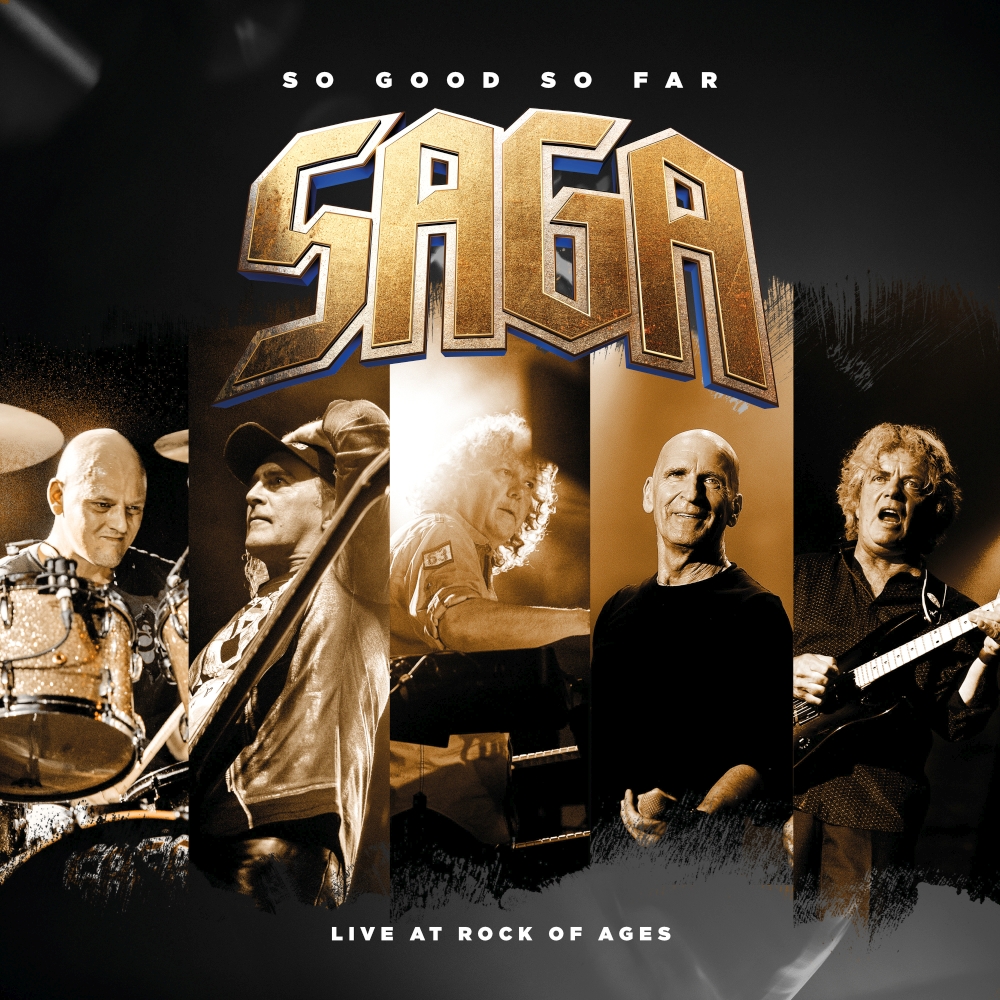 SAGA VERÖFFENTLICHEN BRANDNEUES LIVE-ALBUM "SO GOOD SO FAR – LIVE AT THE ROCK OF AGES"
AM 28. SEPTEMBER ÜBER earMUSIC
2017 feierten SAGA ihr sage und schreibe 40. (!) Bandjubiläum. Die Band, die Hardrock, Progressive Rock und Pop wie keiner anderer zu kombinieren weiß, feierte ihren Geburtstag mit einer Welttournee und sagte dabei Tschüss und auf Wiedersehen zu ihren Fans…erst einmal. Jetzt, ein Jahr später, erblickt die Liveaufnahme "So Good So Far – Live At Rock Of Ages" das Licht der Welt.
"So Good So Far" ist der Inbegriff der langen und stolzen Geschichte von Saga, die Fans seit 40 Jahren lieben – alle 2017 im Zuge des Rock of Ages Festival in Seebronn aufgenommen. SAGA waren der Headliner des Abends und gaben in ihrem umjubelten 1 ½ Stunden Set das Besten aus 21 SAGA-Alben vor tausenden von Festival-Besuchern wieder. Darunter Klassiker wie "On The Loose", "Humble Stance", "Wind Him Up" und "Don't Be Late".
Michael Sadler erklärt: "SAGA haben eine sehr besondere Geschichte mit dem legendären ROCK OF AGES Festival in Seebronn, Deutschland. Der Gründer Horst Franz hat uns schon zum allerersten Festival 2006 als Performer eingeladen! Jetzt, 2017, kehrten SAGA auf ausdrücklichen Wunsch auf die begehrte Bühne zurück – und feierten dabei 40 Jahre Bandgeschichte mit unserer 'Final Chapter Tour'.
Dieses Album fängt den Klang und die Atmosphäre dieses spektakulären Abends mit unserer musikalischen Familie und Freunden ein – einen Abend, der so nie wieder stattfinden wird… oder vielleicht doch?"
Ian Crichton fügt hinzu: "Über die Jahre hinweg hatten wir die Ehre vor Fans in ganz Europa zu spielen, das hat alles in Deutschland angefangen!"
"So Good So Far – Live At Rock Of Ages" erscheint als 2CD+DVD Digipak mit der Show als Bonusmaterial, 2LP Gatefold+MP3 Download und digital am 28. September 2018 bei earMUSIC.
TRACK LIST
CD1
1. Take A Chance
2. On The Loose
3. Help Me Out
4. Keep It Reel
5. Time's Up
6. Will It Be You? (Chapter Four)
7. Careful Where You Step
8. Frog Bite (Drum Solo)
9. What's It Gonna Be?
CD2
1. Someone Should
2. Humble Stance
3. Scratching The Surface
4. You're Not Alone
5. Don't Be Late
6. The Flyer
7. Wind Him Up
Bonus-DVD
1. Take A Chance
2. On The Loose
3. Help Me Out
4. Keep It Reel
5. Time's Up
6. Will It Be You? (Chapter Four)
7. Careful Where You Step
8. Frog Bite (Drum Solo)
9. What's It Gonna Be?
10. Someone Should
11. Humble Stance
12. Scratching The Surface
13. You're Not Alone
14. Don't Be Late
15. The Flyer
16. Wind Him Up
2LP
SIDE A
1. Take A Chance
2. On The Loose
3. Help Me Out
4. Keep It Reel
SIDE B
1. Time's Up
2. Will It Be You? (Chapter Four)
3. Careful Where You Step
4. Frog Bite (Drum Solo)
SIDE C
1. What's It Gonna Be?
2. Someone Should
3. Humble Stance
4. Scratching The Surface
SIDE D
1. You're Not Alone
2. Don't Be Late
3. The Flyer
4. Wind Him Up