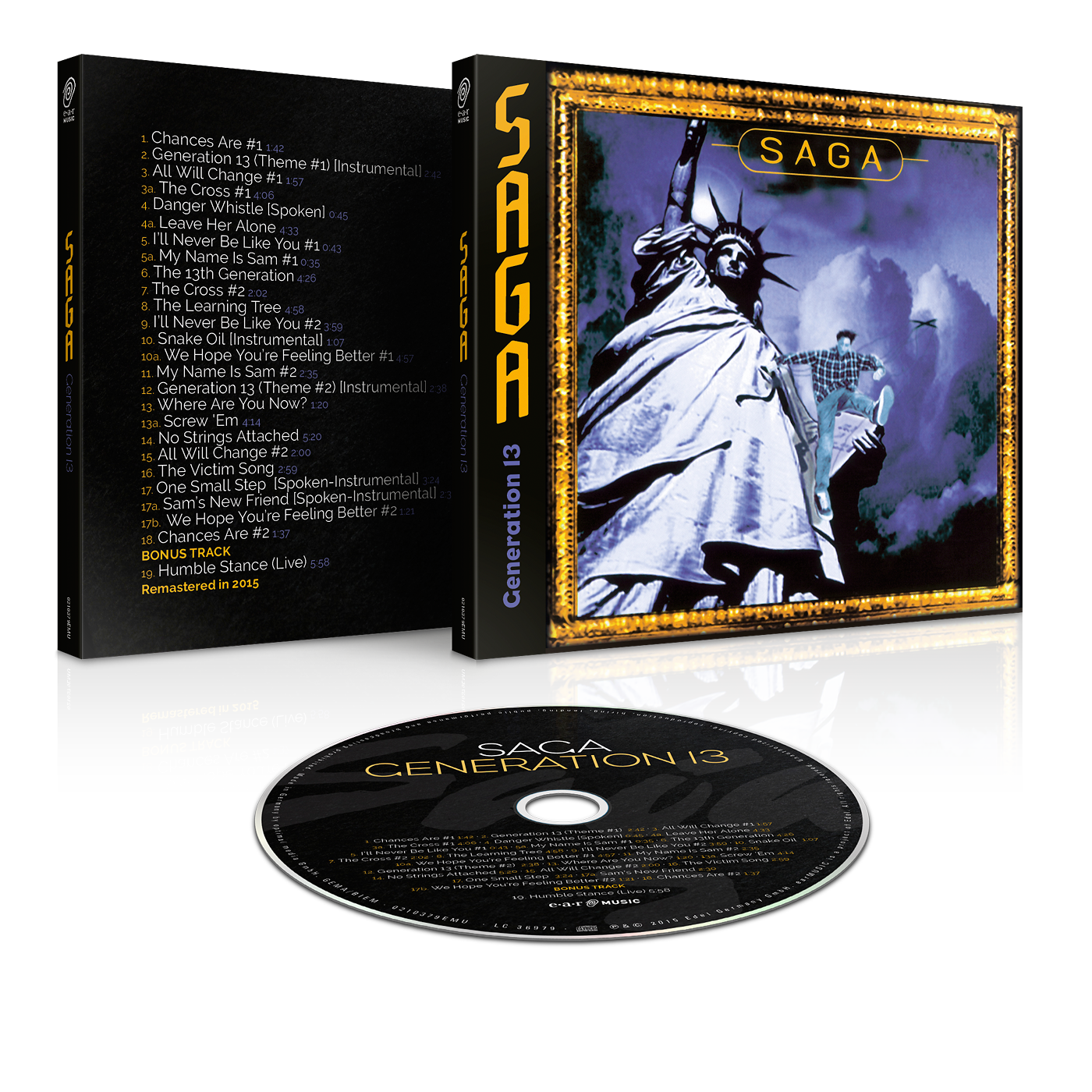 GENERATION 13
Originally released: 1995
Preceding album: Steel Umbrellas (1994)
The 11th studio album "Generation 13" was originally released 1995 and saw SAGA release their first concept album. Inspired by the book ´13 Gen Abort Retry Ignore Fail` by Neill Howe and Bill Strauss keyboardist Jim Crichton developed the (fictitious) story of young Jeremy, a member of what is known as the 13th Gen, whose future prospects were full of uncertainties such as unemployment or homelessness despite the nation's huge wealth. As a result, Generation 13 turned out as a very complex musical album with great rock songs and a truly creative and interesting story full of social criticism. The album is considered as a one of the best concept albums in prog rock history by many.
For this re-release, the album was completely remastered (2015). The tracklist is completed by one additional bonus tracks (never released before), newly recorded during their European Touring 2015 at Fabrik, Hamburg.
Line Up
Michael Sadler – lead vocals, pipe organ
Ian Crichton - guitars
Jim Gilmour – keyboards, vocals, clarinet
Jim Crichton - bass
Steve Negus - drums, percussion
Tracklist
1. Chances Are #1 // 2. Generation 13 (Theme #1) [Instrumental] // 3. All Will Change #1 // 4. The Cross #1 // 5. Danger Whistle [Spoken] // 6. Leave Her Alone // 7. I'll Never Be Like You #1 // 8. My Name Is Sam #1 // 9. The 13th Generation // 10. The Cross #2 // 11. The Learning Tree // 12. I'll Never Be Like You #2 // 13. Snake Oil [Instrumental] // 14. We Hope You're Feeling Better #1 // 15. My Name Is Sam #2 // 16. Generation 13 (Theme #2) [Instrumental] // 17. Where Are You Now? // 18. Screw 'Em // 19. No Strings Attached // 20. All Will Change #2 // 21. The Victim Song // 22. One Small Step [Spoken-Instrumental] // 23. Sam's New Friend [Spoken-Instrumental] // 24. We Hope You're Feeling Better #2 // 25. Chances Are #2
Bonus Tracks
26. Humble Stance (Live), Live at Fabrik, Hamburg
(Originally released on the album 'Saga', 1977)